A cryptocurrency called the Feminist Metaverse has plunged 99% in the past few hours, showing worrying signs for investors in the project. The token was created in December 2021 after a surge in Metaverse market interest.
Many of the planned metaverses are themed, with platforms looking to draw niche users into their ecosystems.
The industry is booming, with many big tech companies showing interest in innovation. However, in the space controversy is the decentralized metaverse, related to blockchain technology, NFTs and cryptocurrencies.
Feminist Metaverse cryptocurrency plummets 99% in hours
After interest in Metaverse peaked, the "Feminist Metaverse" cryptocurrency project emerged as an alternative to bringing more women into the digital currency market.
For example, women are a minority in the cryptocurrency market, and these investors are the least-declared, according to Brazil's Federal Tax Service.
As more men enter the industry, the project claims it will help women become investors as cryptocurrencies are here to stay.
"It's time for women as investors, policymakers and executives to take the lead and start sharing the market because cryptocurrencies are here to stay."
Now is the time for women to take the lead as investors, policymakers and executives and start sharing the market as cryptocurrencies are here to stay.#feminist #metaverse #DAO #pancakeswap #blockchain #BSC #girlpower #female pic.twitter.com/Sq7Rl1Q2UT

— Feminist Metaverse (@FM_Token) May 15, 2022
This Wednesday (18th), the project was the target of a cyber incident that drained 1,838 BNB from the coffers of those responsible for managing the currency.According to the company's reminder shieldThe amount was sent to Tornado Cash, a well-known mixer on the market, causing The project loses 2.66 million reais according to today's BNB offer.
Following the success of the hack, the value of the Binance Smart Chain network token plummeted by 99% in the past few hours, only to be listed on the PancakeSwap exchange.
What does the "feminist metaverse" say?
In a public note on the matter, Crypto Metaverso Feminista's Twitter profile confirmed the hack, saying it was investigating the case and promising a resolution soon.
"FM was attacked by some random scammers. We are investigating this issue. We will fix it as soon as possible. Please be patient, dear users."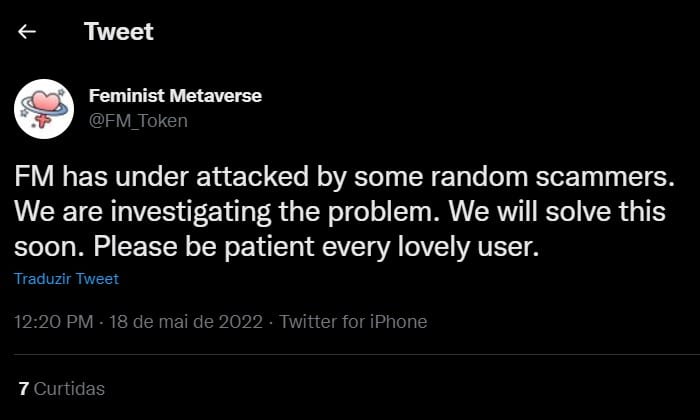 It is worth remembering that the cryptocurrency market is a sector that values ​​the security of projects, whether the currency is themed or not. Under the attack on the project Wednesday, it promised to create a DAO and an egalitarian metaverse for women.
Audits conducted by Certik have indicated some risks to the "feminist metaverse", such as its centralization. It's unclear what caused the problem, but markets are pricing in another unfortunate situation that puts investors in unknown and unsecured currencies created in recent months at risk.