I'll admit, I didn't know what an NFT was until two weeks ago, and I probably won't be the only one. The recent surge of non-fungible tokens and their derivatives in luxury art and fashion has revealed a field that is little or unknown to the general public, but a phenomenon that is popular among younger generations. It's worth millions.
The alert came on March 11, when Christie's announced the sale of an NFT for a digital collage by artist Beeple for $69.4 million (€58.6 million), reportedly the highest price ever paid for a non-physical work of art . if it's a jpeg file). It was also the third-highest price ever sold by a living artist. A few days later, Gucci released its first digital sneaker (or sneaker), which wasn't exactly an NFT, a sign that the brand is expanding its presence in the digital world, which it has been building for several years by creating Avatar skin. virtual game.
Earlier this month, RTFKT Studio had already made around $3 million (€2.40), selling around 600 pairs of virtual sneakers, in three different models. The North American virtual reality studio has positioned itself as the No. 1 brand in luxury NTF, creating the so-called sneakers in collaboration with 18-year-old artist Fewocious, a planetary star of digital art. These are just a few recent examples of the NFT boom (or "bubble") surrounding art and fashion. Here, Vhils is one of the pioneers positioning itself, and since this week, by offering NFT videos on Super Rare, a platform that collects and sells unique editions of digital art.
Before you give up reading this chronicle, as it all seems strange and incomprehensible to you, let's dig a little deeper: What are NFTs? The acronym for Non-Fungible Token translates a unique and non-fungible digital asset, generated by blockchain technology and used to give a unique identity to a specific item, giving it an official seal of rarity and scarcity. Roughly speaking, it is a derivative of cryptocurrency, but unlike Bitcoin, it is not interchangeable and collectible, for example, and can be used in virtual worlds or digital photo frames. According to a study by Nonfungible.com/L'Atelier BNP Paribas, in 2020 alone, the NFT market will grow by 299% to $250 million (€212 million), and there are signs that this expansion will continue.
The explosion in multi-million dollar transactions and artistic creations surrounding NFTs is due in part to the growing demand from cryptocurrency investors for portfolio diversification. The lockdown period, on the other hand, has seen the birth of new "native" breeders (such as Fewocious, which made its first NFT in 2020), multiplying the volume and interest in assets of this nature. The details that justify stratospheric prices and buyer attention are related to the inherent characteristics of NFTs, which is what makes them relevant to luxury brands.
Scarcity and exclusivity are the basis for constructing the concept of luxury, these virtual assets realize the concept of luxury by showing themselves unique digital identities, proving these attributes through blockchain seals, and guaranteeing their non-replicability through algorithms. It is timeless and timeless, capable of being passed down from generation to generation, just like watches and jewelry. On the other hand, a guarantee of origin can protect against counterfeiting issues, as NFTs have a digital passport that can track the changes of an item from creation to final owner. By the way, this is a digital file that some luxury brands have made available through Arianee, a digital identity system developed specifically for branded products of this nature.
If this similarity is more or less obvious, it is not the path that NFTs will follow in the luxury market. Interest is growing, but it boils down more to testing and experimentation leveraging NFTs' notoriety in cyberspace and social networks, rather than a clear hypothetical strategy. It is still used in the creation of digital works accessible in brand apps, through augmented reality, as a filter (like the recently launched Gucci Virtual 25), which allows users to virtually experience what they would look like in their sneakers. At this point, you must be wondering, who is interested in buying something that is only available on a mobile phone, and at a luxury price.
In this regard, Gucci seems to contradict market logic by selling the Virtual 25 for $12 (€10), while the average price of its real sneakers is over €500. just not. In this way, it reaches teens and young adults who are still financially incapable but yearn for the status conferred by luxury brands, and expands the potential audience of new buyers in the future. It sells for the same price as it does in the real world, aside from keeping the possible realization of the above model. In fact, creating an NFT with a physical version (and vice versa) can provide a very ideal bridge between offline and online. However, it is not absurd to focus solely on the virtual. The pandemic and consequent lockdowns have normalised the digitalisation of lifestyles, especially for the youngest, a segment that has been responsible for the growth in luxury brand sales in recent years.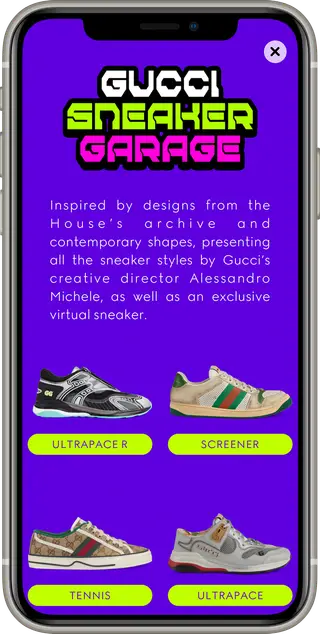 They are passionate about anything on the internet that reflects their personalities, especially in video games and social networks, which are NFTs' natural habitat. Also: These strange assets are compatible with various blockchain virtual worlds, such as Decentraland (buying virtual land) or The Dematerialized (digital clothing). Another related aspect is that anyone can create and trade a variety of irreplaceable digital assets, including artwork, products, services, videos, music, holograms and even tweets. All you need to do is have a "digital wallet" and open an account on one of the various platforms that exist, such as Rarible (one of the largest), OpenSea ("eBay for NFTs") or Nifty Gateway (art and collectibles) etc.
For luxury brands, that means any user can take their product or logo and make an NFT, such as the Gucci Ghost created in 2016 by Trevor Andrew of Nifthy Gateway. The work of this multidisciplinary artist (using the Gucci logo) was born without the Italian brand. However, when Gucci's creative director Alessandro Michele became aware of the existence of this NFT, Gucci ultimately did not sue him, but incorporated the aforementioned ghost into the creation of the clothing line. This situation suggests that the industry will have to rethink the concept of counterfeiting, while in the real world some items run by artists are already worth significantly more than the originals. Such was the case with Birkinstock, which artist collective MSCFH created in February, using leather from Birkenstock sandals and Hermès Birkin bags.
Luxury and art have a history of mutual and collaboration, and this is happening at the initiative of brands that invest millions to rein in the counterfeiting and misappropriation of their heritage, as well as court action when this comes under threat. Now, NFTs are showing a way to turn problems into opportunities while creating new revenue streams. Creators of NFTs receive a percentage of the value of their work each time they resell, unlike physical goods, where brands only invoice the initial sale. In other words, when a jewelry, watch or purse is resold at auction for more than its original price, it receives absolutely nothing, as is common in the industry. Industry analysts have been predicting that in the next five to ten years, a significant portion of luxury brands' revenue will come from digital…
With opportunity comes risk. Most obviously, NFTs will soon go through a phase of falling value and then rise again (no one knows when), just like other cryptocurrencies. Predicting the future is impossible, especially when the risks faced are numerical representations that are far from being consistently understood and accepted. But decentralized internet platforms are on the rise and are becoming easier to understand and access. What is certain is that the first luxury brands to position themselves will gain notoriety among younger generations who demand not only rarity and status, but also interaction and co-creation. signal is given. What is it missing? Believe in the potential being opened up and create structures to support NFTs. We'll see which brands surrender (or don't) to the ecosystem.