Since the term "NFT" has become popular around the world, many people have started to use the technology directly with money laundering. In fact, criminals can use non-fungible tokens as well as physical art to launder resources obtained through illicit activities.However, Chainalysis noted last Wednesday(2) that such criminal activity is still small but growing.
The digital security and blockchain-focused firm released a report this week that found that a small percentage of activity in the NFT market can be attributed to money laundering.
The study aggregated data by tracking transactions sent to NFT exchanges from cryptocurrency wallet addresses known to be associated with fraud, theft, malware, and even legal sanctions. By this method, Small tracking value for Q4 2021, approximately $1.4 million. However, that number appears to have grown since the beginning of the year.
"All of this is just a grain of sand compared to the $8.6 billion in cryptocurrency laundering we tracked throughout 2021," the report authors wrote.
"However, money laundering, especially transfers from sanctioned cryptocurrency companies, poses a significant risk to trust in NFTs and should be monitored more closely by markets, regulators and authorities."
Criminals sell themselves NFTs
In the same document, Chainalysis also pointed to the so-called "Shuffle Trading", the practice of NFT owners "selling" one of their assets by sending money to themselves for another cryptocurrency digital wallet they control.so they Artificially inflated token value Irreplaceable.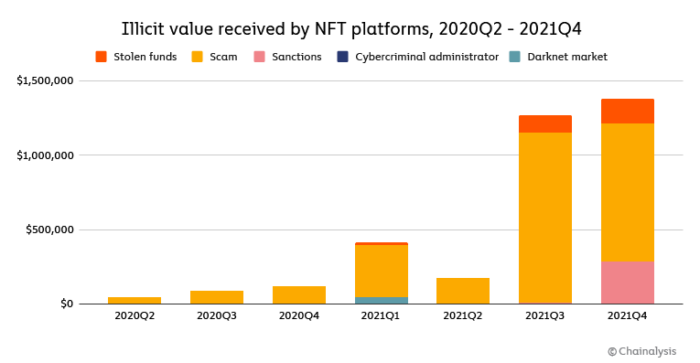 It has always been said that cryptocurrencies help with money laundering. However, it appears that criminals are finally starting to use NFTs to launder money on a larger scale.
The study determined Thousands of NFTs purchased from "self-funded" addresses", i.e. the case where the wallet address that purchased the NFT has already received money from the address that sold the tokens. In some cases, a single address will send funds to both the buyer's and seller's wallets.
According to Chainalysis, one seller in particular caught their attention. ○ Users will make 830 sales. also, 262 users identified as self-paid sales authors more than 25 times.In general, the profit earned by this group is approximately $8.9 million.
Obviously, this money laundering also affects the statistics of the NFT market. For example, last week, NFT marketplace LooksRare surpassed OpenSea (the leader in non-fungible token sales) in transaction volume. However, analysts found that more than $8 billion in NFT transactions likely came from users selling assets to themselves.
Informative: Chain Analysis